Well, the tinkering with the Civic has come to an end. Enter my first real project car.
A 1979 Toyota Corolla SR5 Liftback from New Mexico.
I don't think there are very many of these cars kickin' around Atlantic Canada, if there are they're probably pretty rusty by now.
It runs and drives, I drove it home today and stored it for the winter.
First order of business is to remove the tranny again, needs a bearing in 5th gear and a couple seals. (it was previously replaced with a tranny from an '82)
Anyone know where to start looking for parts for one of these?
If I can save the money over the winter, bodywork and a paint job would be great for the spring. Then some stuff for MVI and maybe have it out next summer!
Down the road..... who knows!? Will a supra engine fit?
Now to satisfy all the picture junkies.....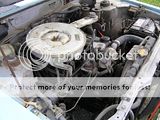 Yes, someone did a VERY crude job of adding a sunroof.....